This section helps you configure the connection to your live store and start working with your data.
When you open the Store Manager for the first time the Connection Wizard is launched automatically in order to help you connect to your live store database and start working with your store.
In case it is not shown,
in order to make the process of connection setup easier you may find the Connection Wizard in Settings Tab -> 
Connection Wizard
:
Simple Mode 
Connection wizard allows you to configure connection to your store data automatically using Simple mode.

On the first step, you'll be suggested to choose the way of connection setup between Simple Mode and Advanced Mode. Let's start from the Simple one - it allows you to set up connection automatically with no efforts.

If you run this wizard for the first time you'll be taken to the third step. If you run it manually, you need to select 
"Add new configuration"
 in order  to create a new configuration.
FTP Settings
At this step of Connection Wizard, you'll be asked to specify your FTP details so the Store Manager could proceed automatically. Please, contact your hosting company so they could provide you with FTP details: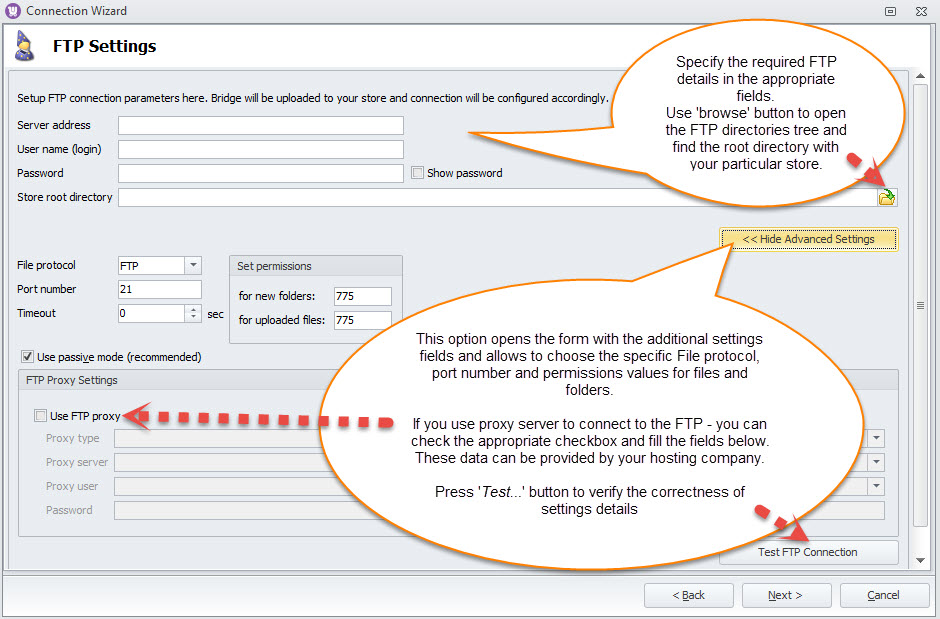 Server address
 - Usually it is your website name like "mywebsite.com" (do not include http://www. prefix); you may use IP address as well.
Username (login), Password
 - 
Specify your FTP username and password. Please make sure that specified user has all privileges and can view, edit or create files in your shopping cart folder.
Store root (FTP)-directory
 - This is the catalog that contains the files of your store (shopping cart) that you can find/see via FTP. Click on browse button to select your shopping cart root folder. To make sure that you have selected the correct folder, check if there are the admin, system and images folders as well as all other files and folders of your shopping cart inside. 
Click 
Test FTP connection
 button and if you receive the message 
"FTP was connected successfully"
, please, proceed with the connection setup by clicking 
Next
.
If you got this message when you use test connection button:
you have to add your IP address to the Access list. It means that the host computer is behind a firewall you may not be able to access it from your home computer. In such cases, you should add your IP to the whitelist (Access Hosts) using your store control panel in order to allow FTP connections from specified IP address. In case you need assistance, you're welcome to contact your hosting provider and they will gladly help you with the process. 
Store URL 
Please, specify your store URL at this step of Connection Wizard. Please, check this URL in your browser, whether it can be opened.